IKEA Assembles a Climb Team
IKEA brings passion — and furnishings — to WWF's CN Tower Climb for Nature
On Sunday, IKEA staffers will be bringing more than their running shoes and yellow shirts to WWF's CN Tower Climb for Nature. They'll also be bringing their Allen keys. That's because, as corporate sponsors of this year's event, IKEA will be transforming part of the Metro Convention Centre into the Platinum Panda Lounge.
Decked out with colourful couches, chairs and other iconic Swedish furnishings, the space will give top fundraising individuals and teams a stylish place to get in the zone before tackling the Tower — and perhaps get a few ideas on how to amp up sustainability at home.
According to Brendan Seale, IKEA Canada's head of sustainability, supporting the CN Tower Climb just makes sense for the home furnishings retailer. Conservation is in the company's DNA — whether it's embracing flat-packing to reduce their shipping footprint or designing energy-efficient appliances. "We often say that wasted resources is a mortal sin at IKEA," Brendan says.
But it was the enthusiasm of IKEA employees that convinced the company to step up (pun intended) and become a corporate sponsor. Last year, staffers from four GTA stores — Burlington, Etobicoke, North York and Vaughan — took the initiative to compete in the climb. "We could see that there was passion for this, so we want to really throw our support behind it," says Brendan. "I think it speaks quite highly of how our co-workers feel about sustainability."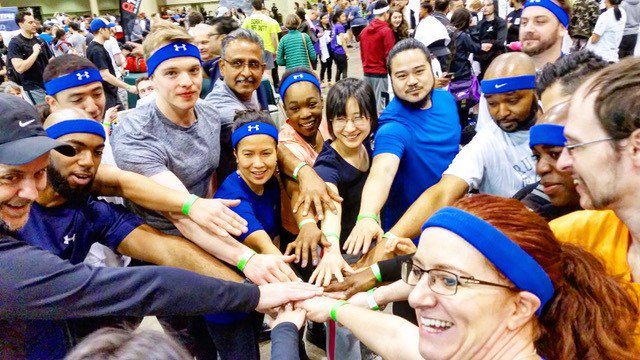 "We could see that there was passion for this, so we want to really throw our support behind it" - Brendan Seale, Head of Sustainability
For North York team leader Kristle Morin, the motivation is simple. "The animals, for sure," she says. "I am a huge animal lover." And because so many of her co-workers are happy to dig into their pockets for the cause, fundraising has been a breeze. "Our internal team here is so supportive," she says.
Meanwhile, the C-suite is on board as well. Several senior leaders will be joining IKEA Burlington's team, including two managers flying home the night before who don't plan to let a little jet lag deter them.
As for Brendan, he's aiming to crush his first climb, thanks to a regime of box jumps and running plus some equally ambitious fundraising. "I reached my initial fundraising goal already, so I've decided to triple it and see if I can just blow it out of the water," he says. Clearly, these IKEA folks are no couch potatoes.
Take your passion for conservation to new heights! Join Brendan and thousands of others at WWF's 2018 CN Tower Climb for Nature.