Five climb tips for your corporate team
WWF's CN Tower Climb for Nature is an opportunity for workplaces to bring employees together to support a cause they care about. Whether you climb with a team of 5 or 50, your company can get involved in this unique and impactful employee engagement event.
Register now for WWF's CN Tower Climb for Nature this April 7 and 8.
Here are five tips to help your company step up for wildlife and hit the fundraising leaderboard for this year's CN Tower Climb for Nature:
1. Invite your networks to join
Climbing the CN Tower doesn't have to be with just your colleagues. Extend the invitation to broader networks to increase your impact, like Team BGIS. This year, team BGIS is aiming for new personal bests around both climber recruitment and fundraising by inviting business partners, suppliers, family, and friends to join their team while hosting a number of company-wide fundraisers including a head office pep rally and 50/50 draws.

Team BGIS was the top climb fundraising team in 2017.
2. Offer incentives
Provide prizes and other incentives to encourage climbers to participate. If your team is low on budget, get creative by inviting your colleagues to offer experiences like a homemade lunch or a music lesson. This year, Team Bentall Kennedy is offering various employee incentives to help them hit the leaderboard for the fourth year in a row. In addition to providing fantastic prizes to employees that participate and raise funds, Bentall Kennedy offers a corporate match to all employees that donate to WWF, encouraging them to double their impact for conservation!
3. Join forces to increase impact
Partner up with your property manager or a neighbour business to increase your CN Tower Climb impact. Team TELUS is taking things to new heights this year by joining forces with Menkes Property Management for this year's CN Tower climb. To encourage employees to sign-up and fundraise for nature, the two organizations collaborated to host a booth in the lobby of the TELUS downtown Toronto tower. TELUS and Menkes will also be hosting a climb challenge throughout the month of March and awarding prizes for the most floors climbed.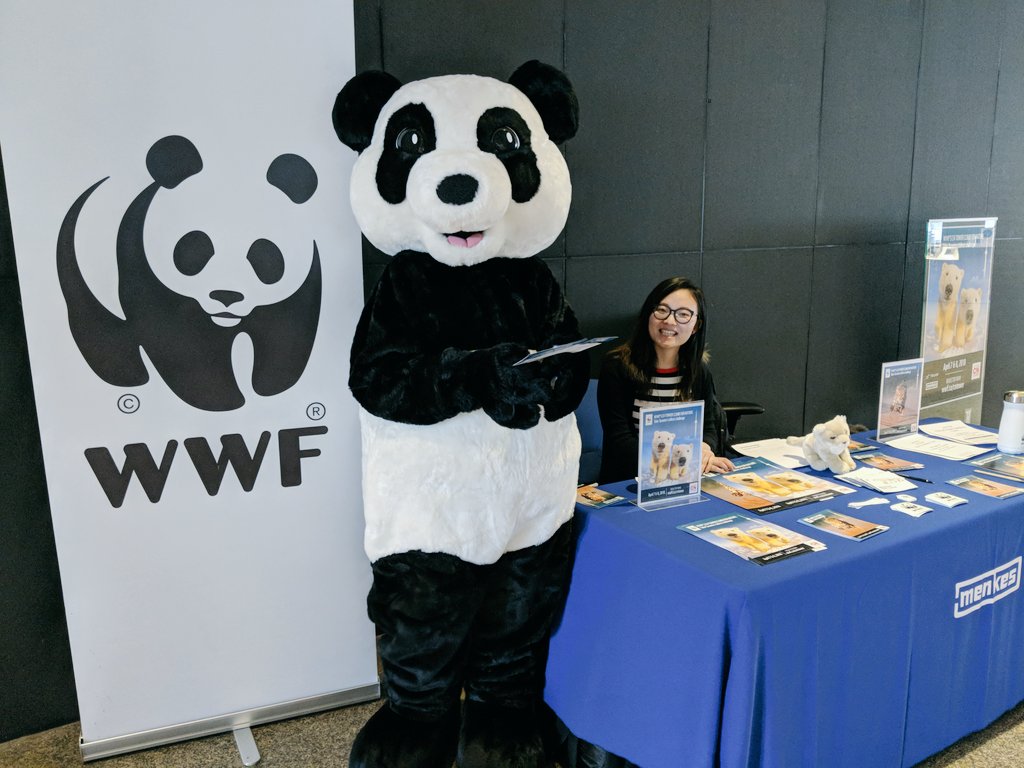 TELUS and Menkes host a CN Tower Climb booth at TELUS Harbour in downtown Toronto.
4. Spread the Word
Use a wide range of communications channels to recruit and fundraise for your climb. Last year, Team Loblaw brought out a record number of climbers to ascend the CN Tower's 1,776 steps, and this year, captain Gwen Cottle will be leading the pack up the tower again to fundraise for WWF's conservation work across Canada. Through recruitment tactics like regular e-mail communications and posts on Loblaws' internal social media channels, Team Loblaw hopes has already recruited more than 25 climbers on the team, and continues to keep the momentum going.
5. Foster some friendly competition
The Young Presidents' Organization is a network of young chief executives who connect to inspire business, personal, family and community impact. For the first time ever, this group of business leaders will be making an impact for wildlife by hosting a CN Tower Climb competition with its members! To date, more than 50 employees across 11 different teams are competing for the coveted YPO CN Tower Climb trophy.
Thank you to all of our corporate teams who are leading the way up the tower for this year's CN Tower Climb for Nature. Now, it's your turn to step up! Register a corporate climb team today at wwf.ca/cntower.
Living Planet @ Work, championed by RSA Canada, empowers environmentally-minded employees to lead sustainable change at work. Visit atwork.wwf.ca to access free workplace sustainability tools and resources.